US Airlines invest in new technology to simplify travel during Covid-19
The ever-changing mandates and travel restrictions due to Covid-19 make air travel a challenge. Major U.S. carriers are working to simplify how and where travelers access resources needed to navigate flying. Think virtual health passports, sourcing Covid-19 test options/locations, and local government restrictions with the click of a button. Below is a summary of what United, American, and Delta currently have deployed or have in the works to streamline Covid-19 travel. At this time Southwest has not announced any additional resources related to traveling during Covid-19.
UNITED AIRLINES -
In-App Travel Tools & Testing Documentation: Customers with an active reservation can access the Travel-Ready Center through the "My Trips" section of the United App and on united.com. The portal will display destination-specific Covid-19 travel requirements as well as local testing options in select markets. Passengers can also upload test result documents to be reviewed by designated United personnel for verification. The individual status indicators for each passenger will then note whether they are "travel ready" allowing them to complete the check-in process.

COMING SOON: Customers will be able to schedule pre-travel Covid-19 tests at more than 15,000 clinics worldwide. Results from these United-approved providers will be automatically uploaded to the portal, and the traveler's status will be updated to "Travel Ready" based on the test results.
AMERICAN AIRLINES -
Travel tools: Customers that are traveling both domestically and internationally can stay up to date on local travel requirements through AA's travel tool which provides a destination-specific overview of local guidelines including face covering, health documentation and quarantine requirements.
Phone App: The VeriFLY app, a mobile health passport that helps customers understand and verify their travel requirements is now available for travel from all international destinations to the U.S. on American Airlines.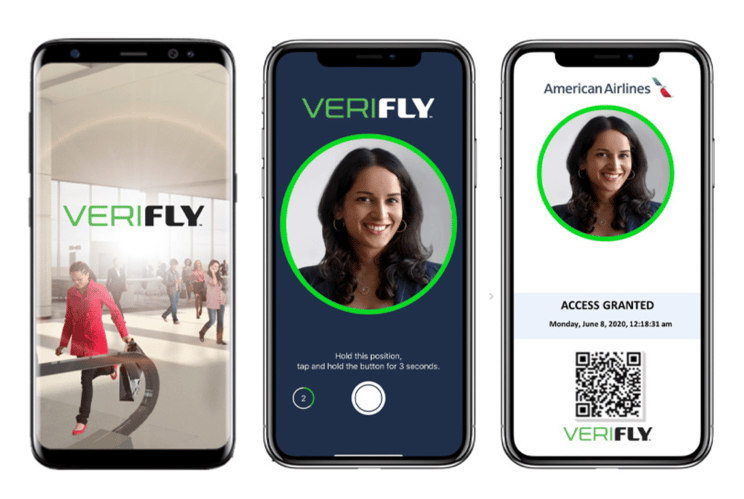 The VeriFLY app provides results from a negative Covid-19 test and other completed documents required for international travel into the United States
Testing: American Airlines has partnered with LetsGetChecked and CareNow to offer convenient COVID-19 testing for select destinations.
At-home test from LetsGetChecked (with a 48-hour turnaround time on average)
In-person testing at select CareNow urgent care locations in the Dallas-Fort Worth, Texas (DFW) area
Onsite rapid testing at DFW airport, administered by CareNow (for select destinations). This testing option may add 1 extra hour to the normal check-in time. Keep in mind customers won't be allowed to fly if they test positive for COVID-19 on-site and will be responsible for any associated costs. American will rebook customers on a flight at least 14 days after the date of their positive test.
DELTA AIRLINES -
Documentation: Beginning with U.S.-entry flights, and in partnership with TrustAssure, customers will be able to directly upload and verify their documents at check-in through pre-flight emails and Delta.com. A 'Ready to Fly' screen on mobile devices will indicate the customer has provided a verified Covid-19 test. Delta has not released a launch date for this service.
Testing: Customers in the U.S. will be able to purchase at-home COVID-19 tests. They can administer one prior to departure, and pack another with them to comply with negative-test requirements before their trip back to the U.S. Delta indicates this service is coming soon, but has not given a specific date.
Visit Delta's dedicated COVID-19 testing locations page to find a nearby testing location for an in-person test prior to travel. Customers can also find a link to the SkyTeam directory of testing centers within the countries that member airlines serve. Customers flying on Delta partner airlines will also be able to leverage the testing solutions offered, either at-home or in-person.