Cain Travel has developed a proprietary application to keep our clients up-to-date on the rapidly changing Covid-19 situation transpiring within destinations world-wide. Providing access to pertinent information when traveling is our top priority, therefore we are offering this valuable tool detailed below as a complimentary service to all of our clients.
Our Covid-19 Data Navigator integrates live API feeds from multiple data sources to provide a quick and efficient way to identify potential travel restrictions in place at destinations around the globe. This service provides information at the Country, State/Province and Airport County level and provides the following information:
Area Status Information for services

Government Restrictions

Country/State Regulations

Testing Requirements (if published)

Travel Restrictions (if published)

Quarantine Information (if published)

Further Details (Links) for each locality
This service will allow travelers to research destinations before travel is booked. The service can be found at: https://www.caintravel.com/covid19/
ITINERARY INTEGRATION
Information contained within our Covid-19 Data Navigator is now integrated with all of our travel itineraries and can be quickly referenced by the traveler at any point. Covid-19 links will be provided for each destination contained in a travel itinerary. Here is an example link for New York - Laguardia Airport (LGA)
Covid-19 NOTIFICATIONS
Companies may request that Cain Travel send notification for each booking made by travelers to evaluate travel risk based on data contained within our Covid-19 Data Navigator. Notifications can be directed to both the traveler, and to a risk related email address for review.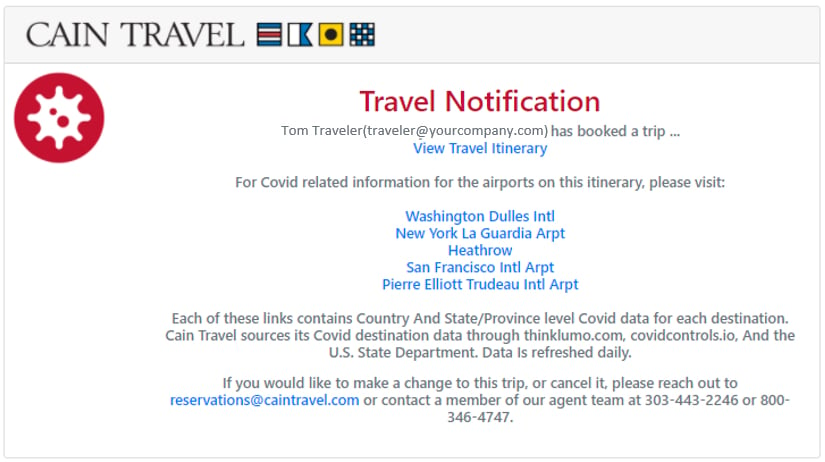 This valuable resource will be an asset for both your travelers and from a traveler Duty of Care perspective. Contact your Account Manager to activate Covid-19 Notifications.